"35 Legends", originally titled "From somewhere, a tournament far, far away…"[1] and later renamed to "A Legendary Reveal!", is a high quality rip of "35 Legends" by BACO, which is a remix of "Main Theme" from Super Smash Bros. Brawl.
Jokes
This video celebrates the SiIvaGunner channel reaching 500,000 subscribers, and mirrors the original GilvaSunner's upload of the same name. Like most of the kirbtunes videos, this is a dense medley mashup centered on the advertised remix. At the end, the "Wiseguy" text-to-speech voice from VoiceForge (the voice used for SiIvaGunner) says "Thank you all for 500 grand subscribers!"
Visuals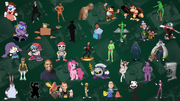 The rip's thumbnail was a black screen prior to its premiere, after which the thumbnail was changed to the "35 Legends" thumbnail used in GilvaSunner's video.
The rip begins with the GilvaSunner thumbnail as its background until it abruptly changes to an edited version with all the Brawl characters replaced with several SiIvaGunner characters and memes, most of which are related to the original characters they replace. In addition, the Brawl stills in the background are replaced with the lighthouse, Grandiose City, and Studio Gunner.
At 5:10, Eric André darts offscreen, followed by "Bird Up!" footage edited to the music and partially composited into the thumbnail edit, with the "Falco!" voiceline accompanied by "Bird Up!"-style text reading "FALCO!". In addition, at 5:15, the [siiva swim] logo appears in the lower right.
Artists
Trivia
The description was originally the same as the first title: "From somewhere, a tournament far, far away…".[1]. It was later made blank after the rip title was changed to "A Legendary Reveal!".
The current description is copied from GilvaSunner's upload with the exception of the postimg.cc image link, which uses the modified visuals seen in the this video.

The postimg.cc image in the video description is named "smashbros123", identical to GilvaSunner's original version.[2]
References
SBFR

150k:
100k:
In the style of:

---
Series for Guitar
Mario:
Zelda:
---
Specials / Random Stuff
SiIvaGunner2:
No playlist:

---
Snowmobile Accident In the style of:
---
Playlists
GilvaSunner:
In the style of:
Tribute:
SGFR: