"subcribe creator me paris tour effeil amuno the best"
―AMUNO
AMUNO is a meme and a contributor to the SiIvaGunner channel. He is a French YouTuber known for creating intentionally awful yet funny content where he has images of people from video games (mainly Undertale). He makes them do stuff like rap, for example. His videos are very low quality, but that's part of the joke.
After his first appearance on the channel, he has been featured in several other rips. His appearances are often met with a mixed reception from the viewers. AMUNO has been known to reply (in broken English) to comments on his rips to ask people to subscribe to his channel, usually with the catchphrase "paris tour effeil" or variants.
Memes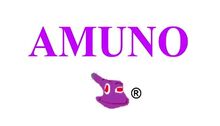 Epic/Extreme Pixel Battle
"Epic Pixel Battle" and "Extreme Pixel Battle" (or respectively EPB and XPB for short) are a parody of French YouTuber 123Lunatic's "Epic Pixel Battle" series (itself openly inspired by Nice Peter & EpicLloyd's Epic Rap Battles of History) and VoxMakers' "Extreme Pixel Battle" series.[2] AMUNO's version, like the originals, makes several fictitious characters duel in a rap battle.
The first video, "Luigi vs. Donald", is even is a reference to EPB's first episode "Mario vs. Mickey"[3]. Unlike the actual "Epic Pixel Battle" series though, AMUNO finishes the battle by adding a surprise third character, coming from Naruto. The visuals uses random artworks or stock images and the audio recording quality is poor (the microphone is saturated and some bad takes are left in).
Triple-Q and other collaborators reference his videos by the "AMUNOOOO!" scream from his introduction or "EXTREEEME PIXEEEEL BATTLEEEE!!!" from "Papyrus vs. Mario"[4].
Rips
See also: Category:AMUNO and Category:Rips featuring AMUNO
Other than his own videos uploaded as rips, AMUNO was referenced in several high quality rips, such as "Title Call - Super Smash Bros. Melee", "Agent Yoru o Yuku - THE iDOLM@STER", and "YO-KAI Disco (Hell's Entrance World) - Mamorukun Curse!".
An hour long AMUNO video plays a part in the CCC ARG, and was released as "The Final Rip". AMUNO himself was a step in the ARG, giving puzzle solvers a nonsensical quiz.
External links
References
Backroom
---
Team members
Spottygamester

Trogdorbad
---
Other major contributors (10 or more contributions)
daypeecone

Elecmarol

Nernant

saviosiqueira

SubName

SuperStarGuy

The Meme Machine
---
Italics indicate a person is known to have ceased contributing.
Others: