"A Manic Announcement" is a high quality announcement video by SiIvaGunner. It was made in the style of the Sonic Mania trailer and used to announce Haltmann's Highest Quality Video Game Rips.
Summary
The video is an animated "trailer" for Grand Dad Mania in the style of Sonic Mania. Grand Dad, Smol Nozomi, and Loud Nigra make appearances as the main characters. Grand Dad is drawn with his signature wáng" (王) symbol (the Mario M is drawn and quickly replaced), Loud Nigra sports the yellow star used in Title Theme & Ending - 7 GRAND DAD (with a different sprite), and Nozomi's sprite is her smol version. Grand Dad uses his club to defeat enemies, Nozomi can fly upwards (like Tails) using her hair, and Nigra can slide and punch like Knuckles.
Description
Artists
Animated by:[1]
...with gameplay and editing managed by:
...and sprites by:
Trivia
Sykhro, the lead programmer of Grand Dad Mania stated that Grand Dad Mania is still a cancelled project despite the trailer.[2]
The video contains several references to other media and memes:
Loud Nigra appeared to be able to take off his star, revealing a star-shaped hole where his crotch should have been.
The elevator is decorated with all the major albums as icons

The elevator also has the "ok" emoji, which is the icon of the The MF Like Button.
When entering the elevator, Grand Dad also makes the "ok" sign.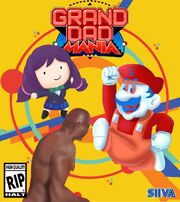 The fake ESRB rating on the box art of the Grand Dad Mania box reads "High quality RIP, HALT"
The end-title card text reads:
MIRRORS MAY NOT BE AVAILABLE IN ALL AUDIO FORMATS.

HALTMANN WORKS CO. ALL RIGHTS RESERVED. HALTMANN WORKS CO. IS NOT RESPONSIBLE FOR SIDE EFFECTS. SIDE EFFECTS MAY INCLUDE:
DIFFICULTY BREATHING, TIGHTNESS IN CHEST, SWELLING OF THE MOUTH, FACE, LIPS OR TONGUE, CANCELLATION.
The FLAC links were originally replaced with the text "Coming AUGUST 29th!" referencing Sonic Mania being delayed for PC until August 29.
References