The April Fools' Day 2018 channel event was a week-long takeover starring Inspector Gadget as channel host... again. However, this time Gadget is not alone, and he fights an army of video game reviewers lead by Nostalgia Critic.
"SiIvaGunner" suffers a major glitch and finally reveals himself as Inspector Gadget, who had once again taken control of the channel. However, a new faction in opposition of him rises up. This new group consists of internet reviewers led by the Nostalgia Critic. All of the rips involve Gadget, Nostalgia Critic or other reviewers.
The description is once again changed to "Go-Go Gadget Channel Description!" As well, the profile picture for the channel on Twitter and YouTube seem to be following this series of pictures from this Tumblr post.
Tweets:
"Wowsers! I'm finally back on Twitter!"[1]
Tweets:
"I'm ALWAYS on duty." [3]
Tweets:
"Good gosh! My icon seems to be broken! Go Go Gadget Repairs!" (Gadget's profile picture was a white circle at the time) [5]
"Ah, there we go, back to normal!" [6]
Tweets:
Gadget retweets an edit of Snow halation's intro sequence (dubbed) where Inspector Gadget appears and says, "I love building brown bricks in Minecrap".[7]
Tweets:
"My English teacher is having us read Fredrick Douglass' memoirs. When we got out our books, I yelled, "Oh boy! We're going to build brown bricks in Douglasscraft!" Now, uh, normally, my teacher is okay with me being weird like that, but apparently that was too far." [8]

"TL;DR: Brown Bricks are NSFC (Not Safe For Class)" [9]
Tweets:
4090677582
5895091821" [A Polarium password (puzzle code) that is Wood Man's face. It was first discovered and solved by chieze on the SiIvaGunner Discord. The puzzle was made by MtH.] [11]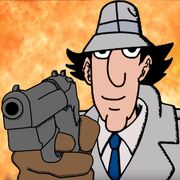 Inspector Gadget's avatar changes to a picture of Gadget pointing a pistol towards the camera with flames in the background. This image is a reference to part of the Nostalgia Critic's intro. The channel banner is also changed to a more chaotic image.
Tweets:
"Have you ever stared down the barrel of a gun before?
Wowsers."[12]
[Gadget's profile picture with the caption: WOWSERS][13]
"Wire and skin interwine and become one.
My mind is numb to the pain
but now and again, I stare
at myself
and like a current through a cord

the surge of agony overwhelms me.
No words can cry out, but one:

WOWSERS."[14]
Gadget disappears from the channel banner and profile picture. The Lighthouse is now completely empty, and the Twitter name is simply "." In addition, the channel description is empty save this sentence: "(All content is willingly submitted by a team of content creators.)"
The only activity on the Twitter account is a retweet of a glitch from Super Mario Odyssey that rockets Mario into the abyss.[15]
Events
see also: List of channel events
---
GiIvaSunner (Jan 9, 2016 – Apr 6, 2016)
---
SiIvaGunner Season One (Apr 12, 2016 – Oct 29, 2016)
---
SiIvaGunner Season Two (Nov 3, 2016 – Dec 31, 2017)
---
SiIvaGunner Season Three (Jan 1, 2018 – Mar 25, 2019)
---
SiIvaGunner Season Four (Mar 25, 2019 – Jan 8, 2020)
---
SiIvaGunner Season Four Episode Two (Jan 8, 2020 – present)
Community content is available under
CC-BY-SA
unless otherwise noted.