The April Fools' Day 2018 channel event was a week-long takeover starring Inspector Gadget as channel host... again. However, this time Gadget is not alone, and he fights an army of video game reviewers lead by Nostalgia Critic.
Summary
"SiIvaGunner" suffers a major glitch and finally reveals himself as Inspector Gadget, who had once again taken control of the channel. However, a new faction in opposition of him rises up. This new group consists of internet reviewers led by the Nostalgia Critic. All of the rips involve Gadget, Nostalgia Critic or other reviewers.
The description is once again changed to "Go-Go Gadget Channel Description!" As well, the profile picture for the channel on Twitter and YouTube seem to be following this series of pictures from this Tumblr post.
Timeline
April 1
Tweets:
April 2
Tweets:
April 3
Tweets:
April 4
Tweets:
April 5
Tweets:
April 6
Tweets:
April 7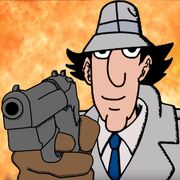 Inspector Gadget's avatar changes to a picture of Gadget pointing a pistol towards the camera with flames in the background. This image is a reference to part of the Nostalgia Critic's intro. The channel banner is also changed to a more chaotic image.
Tweets:
April 8
Gadget disappears from the channel banner and profile picture. The Lighthouse is now completely empty, and the Twitter name is simply "." In addition, the channel description is empty save this sentence: "(All content is willingly submitted by a team of content creators.)"
The only activity on the Twitter account is a retweet of a glitch from Super Mario Odyssey that rockets Mario into the abyss.[15]
See also
References
Events
See also: List of channel events • Breaks • Events by season
---
---
---
April Fools' Day 2018 (Apr 1–8, 2018)
---
---
---
---