For April Fools' Day 2021, a channel event themed around the discontinuation of Super Mario 3D All-Stars and Super Mario Bros. 35 occurred on the SiIvaGunner channel, starting on March 31, 2021.
Rips uploaded
The event was foreshadowed with a series of three The Legend of Zelda: Majora's Mask rips counting down to the discontinuation of Super Mario 3D All-Stars, featuring Super Mario 64 on March 29, Super Mario Sunshine on March 30, and Super Mario Galaxy on March 31. Additionally, all rips uploaded on March 31 were of games from the Super Mario franchise and/or featured songs from Super Mario games as jokes.
March 31 ended with the rip "Super Mario 3D All-Stars Music SM64 Game Over", which depicted Mario disappearing. Afterwards, all references to Mario were removed from the rip's metadata, the Grand Dad in the lighthouse was replaced with Fred Flintstone[1] and nearly every single Super Mario rip on the channel was set to private.
Subsequent rips continued to reference the theme of Mario being erased in various ways. The vast majority of these rips were of "the Super Bros. franchise", a group of fake game substitutes for Super Mario games in which Mario is no longer present. Though most of the Super Bros. games ripped merely omitted Mario from their titles and thumbnails, rips of Super █████ 3D All Stars and the games within it (Super M̸̌̊a̴͛̿█̸͌̑i̵̛͊█̷̾̓ 64, Super M̸̌̊a̴͛̿█̸͌̑i̵̛͊█̷̾̓ Sunshine, and Super █̴̧̀a̵̤̐r̷̙̋█̶̰̆o̶͚̚ Galaxy) still contained traces of his name, albeit heavily corrupted or partially obscured. After the last rip of April 1, "Staff Roll - Super M̸̌̊a̴͛̿█̸͌̑i̵̛͊█̷̾̓ 64", the channel went silent for most of the following day (except to upload "Dad Battle (In-Game Mix) - Friday Night Funkin'", which revealed that Gangsta Mario had also been erased).
Towards the end of April 3, a rip where Mario's name was legible in the title, "Ultimate Koopa Clear - Super M̶̲̉a̷̔̐r̵̪̈́i̸̐͗ȏ̵̇ 64", was uploaded. A few hours later, the video "A Leap of Faith - SilvaGunner: Rebooted" was uploaded, which showed the Super Mario games, as well as Mario himself, being restored. Four more rips alluding to the event's end were uploaded, concluding with "Staff Roll (JP Version) - Super Mario 64DD" on April 4. The majority of the privated rips were un-privated, and the Fred Flintstone in the lighthouse switched back to Grand Dad. This may be a reference to how April 4, 2021 was Easter, since Mario returned after being "dead" for 3 days.
Timeline
See also: Category:April Fools' Day 2021
March 31
April 1
April 2
April 3
April 4
Privated rips
The beginning of April 1 saw the privating of almost every video in the channel's history that included the word "Mario" in the title. This included the most viewed rip on the channel, 39 other rips featured in the "Popular uploads" section, and the contents of most Super Mario game playlists (many of which were among the largest playlists). This mass privating had four exceptions:
The following rips were also privated:
This totaled to at least 1751 privated videos.[3] However, the (effectively empty) playlists could still be viewed;[4] some of them had the equivalent "Super Bros." rips added.[5][6]
On April 4, all rips privated during the event were un-privated, with some delay for "Dad Battle (In-Game Version) - Friday Night Funkin'" and "Steam Gardens - Super Smash Bros. UItimate". This also resulted in the accidental republication of "Mario kart 8", "Beware the Forest's Mushrooms (Beta Mix) - Super Mario RPG", and the initial upload of "Level 2 (Sewer) - Gangster Bros.".
Message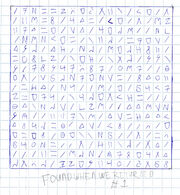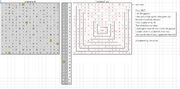 At 9:21pm PDT on April 1, 2021, the @GiIvaSunner Twitter account posted a coded message written in a substitution cypher, with the additional message "FOUND WHEN WE RETURNED #1".[7] This message has been decoded as follows:[8]
It is currently unknown if this message has direct connections with the event, if any.
On May 2, 2021, a similar coded message was posted to the Twitter, captioned "FOUND WHEN WE RETURNED #2".[9] It uses a different cypher from the original message, and it is not currently known what it decodes to, or whether it relates to the event or previous message.[citation needed]
Gallery
See also
External links
References
Events
See also: List of channel events • Breaks • Events by season
---
---
---
---
---
---
---