Chip tha Ripper is an American hip hop recording artist from Cleveland, Ohio.[1]
He once did a freestyle rap on the radio, known unofficially as "S.L.A.B. Freestyle". The lyrics "Interior crocodile alligator / I drive a Chevrolet movie theater" from the rap became an internet meme in the early 2000s due to the ridiculousness of the phrase. The song later became a meme on the SiIvaGunner channel, eventually leading to Chip himself becoming a character in The SilvaGunner Christmas Comeback Crisis.
"S.L.A.B. Freestyle" is actually one of many memes from the GiIvaSunner era that was carried over from the Soundclown community. It's an easy song to use in a mashup since, other than the single bar flute section (which can easily be cut out), it has no melodic elements. The first album, GilvaSunner's Highest Quality Video Game Rips: Volume 1, features 8 simple mashups of the song "S.L.A.B. Freestyle".
The SiIvaGunner backroom uploaded a certain amount of "S.L.A.B. Freestyle" mashups that got popular among the fans. However, the general consensus regarding rips containing "S.L.A.B. Freestyle" turned negative over time, with many rippers and backroom members regarding it as one of the worst memes on the SiIvaGunner channel, and has become since then mocked by the backroom[2] - like in the rip "Title Screen (Demo) - Super Mario 3D Land" - and banned from user submissions[3].
"S.L.A.B. Freestyle" appeared a lot less often post-reboot, being exclusive to medley mashups such as "Vs. The Wicked Company (Alternate Mix) - Kirby Planet Robobot", "Dark Castle (Beta Mix) - Kirby Planet Robobot" and "Reach for the Summit - Celeste".
However, during the Nostalgia Critic Takeover, it reappeared as a semi-prominent recurring joke, to be reminiscent of the GiIvaSunner era. Unique rips were created with the song, such as "Tough Zombeat - MOTHER 3" and "Doctor Louie's Interior - The SpongeBob SquarePants Movie". It continued being used in unique rips past the end of the event, effectively making the song once again a minor meme.
Character
Edit
The popularity of Chip tha Ripper's freestyle rap culminated with a Chip tha Ripper character that has appeared primarily in the CCC.
Mr Rental Arc
Edit
As revealed in "Behind the Scenes - Mr. Rental: The Video Game", NBGMusic originally planned an episode of Mr. Rental that gave us a look at Mr. Own's past and how Chip tha Ripper murdered Mr. Own's family and also gave us information on why Mr. Rental dislikes mash-ups.
The SilvaGunner Comeback Crisis
Edit
In The SilvaGunner Christmas Comeback Crisis arc, Chip tha Ripper is a part of the Rapper's Union alongside Snoop Dogg, Soulja Boy and Charles Barkley. Chip is murdered in "Timbre of a Kazoo" after Barkley stabs him in a moment of betrayal.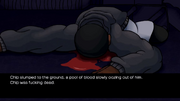 Click "Show lyrics' to see the lyrics of "S.L.A.B. Freestyle"
---
yeah ... Chip - tha - Ripper ... S.L.A.B
Now baby I'm the ripper, your baby daddy's worst nightmare
Catch me by the Clair, I'll be right there
Niggas copy everything we say
Louie frames, eyes lower than my G.P.A
Riding and swerving, Kush I'm blown
Doors wide my trunk bump like Eddy Road
I don't cake hoes, I never tip the stripper
I'm rich bitch but you can call me Cheap tha Ripper
Shell toes, yes. P.R.P.S
There's a man riding a horse on top of my chest
Polo fresh, I am the man
I be slam dunking Tanqueray shots with LeBron
Told niggas keep it Carmelo, okay
Rolled past Dave told him hello and hey
Me and Cash in something old on 23's ho
Back window says "Mama Mel Bicho"
Skateboarders grind, I grind too
That's why you can catch me in D.C. shoes
I quit the team but believe I'm balling
Want a verse, put up a stack or quit calling
30's on my Chevrolet call me super duper
Garage like Roots I got more whips than Kunta
Riviera sitting on the Bulls best hooper
Y'all still riding 20's, y'all some oompa loompas
Doors swang on niggas that got bad behavior
My four 15's woke up the neighbors
Interior crocodile alligator
I drive a Chevrolet movie theater
While "S.L.A.B. Freestyle" is only a minor meme on SiIvaGunner, it is a major meme on VvvvvaVvvvvvr.
References
Edit
↑ "Chip tha Ripper is easily the worst siiva meme", by Chaze the Chat, Twitter
↑ Main Theme - Superman 64 (rips submissions), YouTube
♫ Music memes ♪
TV show tunes:
Anime music:
Video game music:
Pop:
Rap:
Rock:
Electronic music:
Other:
Community content is available under
CC-BY-SA
unless otherwise noted.