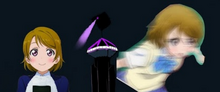 Hanayo Koizumi's birthday was celebrated on the SiIvaGunner with a channel event.
Summary
In addition to Hanayo Koizumi's "Snow halation" solo rip, four other Love Live! rips with little connection to Hanayo were uploaded on this day, two of them arbitrarily assigning a relation to her through metadata.
Though this event had less rips than any prior event, this is mostly just a consequence of there being less January 2017 rips in general since the seventh CCC episode was still undergoing development hell. The event's uploads were planted throughout the day's normal schedule.
The 2nd and 3rd banners feature Michelle Obama because her birthday is also January 17 and also due to the Voice[1].
After the event, the Voice revealed that the changes to the channel and the rips uploaded were not implemented by him, but by "some imbecile" under his employ.[2] The Voice then "terminated" eight of the members of μ's, with the remaining member being Smol Nozomi.[3][4]
Timeline
See also: Category:Hanayo Koizumi's Birthday
Rips unrelated to the event are in italics.
Trivia
Relating to the termination of most of μ's, Willie Weasel posted an image to his Twitter showing that they were dispatched via "Idol Be Gone" (a reference to the film Who Framed Roger Rabbit?), although it's unclear if this is supposed to be canon.[5] The image also implies Knuckles was mistaken for Maki and killed, since his glove is seen in the image, which could explain Maki's later appearance in the background of "Treacherous Addiction".
References
Events
See also: List of channel events • Breaks • Events by season
---
---
---
---
---
---
---