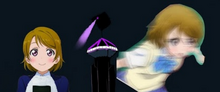 Hanayo Koizumi's birthday was celebrated on the SiIvaGunner with a channel event.
Rips related to this event have Hanayo mentioned in the title or appearing in the video. These were planted throughout the day's normal uploads and did not halt them. The reason for the 2nd and 3rd banners featuring Michelle Obama is because she shares the same birthday.
Only three rips related to this event were actually uploaded, which is less than any prior event. This is probably just because there were less rips during January 2017 in general; the seventh CCC episode was undergoing development hell at this point in time.
There's also a plot hole with this event in that The Voice was in control of the channel during it, despite him wanting to destroy all "weeaboo anime bullshit". Many viewers speculated that The Voice could be a closet weeb, hence why he'd know about and celebrate Hanayo's birthday.
See also: Category:Hanayo Koizumi's Birthday
Events
see also: List of channel events
---
GiIvaSunner (Jan 9, 2016 – Apr 6, 2016)
---
SiIvaGunner Season One (Apr 12, 2016 – Oct 29, 2016)
---
SiIvaGunner Season Two (Nov 3, 2016 – Dec 31, 2017)
---
SiIvaGunner Season Three (Jan 1, 2018 – Mar 25, 2019)
---
SiIvaGunner Season Four (Mar 25, 2019 – Jan 8, 2020)
---
SiIvaGunner Season Four Episode Two (Jan 8, 2020 – present)
Community content is available under
CC-BY-SA
unless otherwise noted.