Hololive Production or simply Hololive is a Japanese virtual YouTuber agency. Its members and their music are memes on the SiIvaGunner channel.
Overview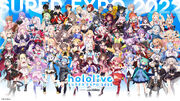 Hololive Production was founded on June 13, 2016 by Motoaki Tanigo, CEO of COVER Corporation. On September 7, 2017, the first VTuber member, Tokino Sora, debuted. Hololive became more mainstream in early-to-mid 2020 as more members debuted.
On September 12 and 13, the first wave of Hololive English members, subtitled -Myth-, debuted. Mori Calliope and Takanashi Kiara debuted on the 12 while Ninomae Ina'nis, Ameila Watson, and Gawr Gura debuted on the 13.
Rips
See also: Category:Rips featuring Hololive
The first rip of a game in the Hololive series was "Title Screen (Shiny Smily Story) - Hololive × Azur Lane Collab Event". Rips on the channel have referenced mostly Hololive English members, with most referencing their original songs and/or background music used during streams. Several Hololive members have mentioned SiIvaGunner and the rips they are referenced in, including Kiara, Calliope, and Gura.
External links