JOEJOE'S BIZZAERE JOJOKE is a low-quality album released by SiIvaGunner. It is a joke album filled with unmusical and/or obnoxious JoJokes and other tracks, such as off-beat mashups, blue balls rips, and midi-slaps.
It was announced through the video "『 AN ENEMY ANNOUCEMENT』", under the fake album name of "7「STAND」DAD".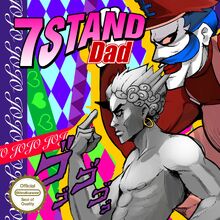 Track list
Bonus items
See also: JOEJOE'S BIZZAERE JOJOKE/Gallery
The album also contains several bonus items in it, which are mostly identical to the Angry Joe photos and video found in GiIvaSunner's HighestQuality Video Game Rips Volume 2.
See also
References
| | |
| --- | --- |
| 2016: | |
| 2017: | |
| 2018: | |
| 2019: | |
| 2020: | |
| 2021: | |
| 2022: | |