Marrow (short for Mr. Marowak) was a contributor to and backroom member[1] of the SiIvaGunner channel.
History
On December 26, 2014, Marrow uploaded his first video to his YouTube channel, "Linus and Lucy 8-Bit". This video was the first of Marrow's many remixes. However, the channel would be mostly dedicated to Super Smash Bros. for Nintendo 3DS highlights and glitches and would only upload sporadically. However, another remix would be released almost a year later on December 5, 2015: "Super Dotto World".
On January 2, 2017, Marrow would upload the first of many StreetPass Plaza game speedruns, with this run dedicated to Slot Car Rivals / StreetPass Slot Racing. The footage of this was recorded using an external camera and the times were kept track of using splits.io and linked in the video's description.
The games that Marrow would go on to speedrun were:[2]
Slot Car Rivals / StreetPass Slot Racing
Find Mii II / StreetPass Quest 2
Mii Force / StreetPass Squad
He would also start broadcasting these speedruns on his Twitch channel, but only the world records, personal best runs, and additional highlights were uploaded on his YouTube and Twitch. In addition, guides to speedrunning Find Mii II, Ultimate Angler and Mii Force were uploaded, intended to help new players learn how to speedrun these games.[4]
His SoundCloud, which started uploading his own tracks on April 2, 2017, mostly consisted of his SiIvaGunner rips uploaded under unique names. For example, the track "Rich Guy Song" is identical to "Big Ambitions - Market Crashers / StreetPass Trader" but uploaded roughly 7 months later.
On June 2, 2018, Marrow would run Slot Car Rivals All Courses (Booster) as part of the third A Race Against Time, a speedrunning marathon "centered around vehicular games".[5][6] This would mark his first run in any marathon.
On March 27, 2019, Marrow announced that his submissions to SGDQ 2019, a speedrunning marathon for charity, were accepted and that he would be doing runs of SUPER BENBO QUEST: TURBO DELUXE Any% and Slot Car Rivals All Courses (Booster).[7]
On June 17, 2019, the SiIvaGunner Twitter announced that Marrow had passed away.[1] This also led to the removal of his runs from SGDQ 2019.[8]
Contributions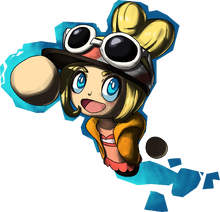 See also: Category:Marrow and List of Marrow's contributions
Marrow's first rip, "Mt. Pyre - Pokémon Ruby & Sapphire", was uploaded on May 3, 2016. Marrow's final rip was "Parker Lake - Ultimate Angler / StreetPass Fishing", which was initially released in Now That's What I Call Quality! 2 on January 4, 2019, and later posthumously uploaded to the channel on June 20, 2019.
Marrow's rips often included 80's music, such as "Walking on Sunshine" in "Mt. Pyre - Pokémon Ruby & Sapphire" and "Come on Eileen" in "Battle! (Deoxys) (Beta Mix) - Pokémon FireRed & LeafGreen". They would also often include "Meet the Flintstones", but these additions were much more subtle, such as at the end of "Frisbee Dog - Results - Wii Sports Resort" and "Trampoline Time - Super Mario 64 DS". Marrow ripped four segments of "Stage Select - Mega Man 3". He also contributed art to "The Life and Times of Wade L.D. - A SiIvaGunner Christmas Comeback Crisis Side Story", as referenced in the credits at the end of the video and "Lifelight Fusion Collab", credited in the video description.
Tributes
After Marrow's passing, the SiIvaGunner team transformed National Go Fishing Day into a tribute for him by uploading rips from Ultimate Angler / Streetpass Fishing, 32 in total, as well as rips involving SpongeBob SquarePants and Wii games. The final rip of this event, "Parker Lake - Ultimate Angler / StreetPass Fishing", is a rip by Marrow and contains the message "Thank you, Marrow." both in the description and at the end of the video.
The King for Another Day Tournament is dedicated to Marrow and Etika. The arrangement "8 PM (Fishing Night in Heaven)" also pays tribute to Marrow.
Trivia
His profile pictures depict Coraline, a character from Ultimate Angler / StreetPass Fishing. The pictures used for his YouTube and Twitter accounts were commissions from @Famimatsu.[9]
External links
References
Backroom
---
---
Other major contributors (10 or more contributions)
daypeecone

Elecmarol

Nernant

saviosiqueira

SonicFan53

SubName

SuperStarGuy

The Meme Machine

Tina the Cyclops girl
---
Italics indicate a person is known to have ceased contributing.
Others: