Mr. Krabs is a character from SpongeBob SquarePants. He is a minor meme on the SiIvaGunner channel, most recently known for his appearance in the King for Another Day Tournament. He was selected by the rippers.
See also: Category: Rips featuring Mr Krabs
On SiIvaGunner, Mr. Krabs is used in two different memes:
OH YEAH MR KRABS: Originating from a 5-second short 2007 YouTube video by user messinwithbigfoot,[1] it shows a man playing with a Mr. Krabs figure from a SpongeBob Squarepants: Game Of Life board game, saying "OH YEAH MR KRABS" followed by an incredibly loud and saturated scream. It is used as a surprise "ear rape" in a similar way to Loud Nigra or Green de la Bean.
Beep! Bop!: Also known as "Could you play that song again?", it is a scene from "Krab-Borg", the 9th episode of the 3rd season of SpongeBob SquarePants. In this scene, Mr. Krabs calls a radio DJ and asks him to replay a song he just heard (a techno song called "Electric Zoo"). Unable to remember the title, he tries to recreate it with a series of robotic "Beep!" and "Bop!" sounds. The dialogue between the DJ and Mr. Krabs is sometimes used to introduce a rip, and is often followed by the "Beep!" and "Bop!" sounds remixed to the rhythm of the rip.
"Mr. Eugene H. Krabs has found great success as owner of the world-renowned Krusty Krab, but couldn't pass up a chance to promote his business further… and a shot at that expensive looking crown! This crustaceous cheapskate's greed knows no bounds; just don't tell him that we don't actually offer a cash prize."
—Mr. Krab's description on the MOJO!!
Mr. Krabs joined lineup of characters competing in the King for Another Day Tournament on March 30, 2019 at the end of "Stronger Than You - Steven Universe". As revealed in the E3 2019 direct, his rips involve episodes from the Spongebob Squarepants series, pirates and pirate themes, crabs, and money. Examples listed on the Tournament MOJO!! are "Sweet Victory", "Electric Zoo", "Stadium Rave A", "Crab Rave", and sea shanties.
In Round 1, Mr. Krabs faced Dr. Robotnik and won. In Round 2, he faced Daft Punk ft. Pharrell and lost, then in the losers bracket he faced MissingNo. and was eliminated.
Lines without a link come from the "All Vs/Victory Lines" video.
| Against | Mr. Krabs' quote |
| --- | --- |
| | "What the scallop are you supposed to be? One of Plankton's new contraptions?" |
| | "Hey, what if I made ye the star of the Krusty Krab's very own puppet show? Kids will come in and bring in their parents' money!" |
| | "I ain't seen you ladies around in Bikini Bottom before! Are ye tourists? PAYING tourists?!" |
| | "Heard yer pretty fat! Come on down to the Krusty Krab! We got tons of whole wheat patties!" |
| | "You boys related to King Neptune? Think I see the family resemblance! Arkarkarkarkarkark!" |
| | "MOTHER OF PEARL! These "console" thingamajiggers are printin' money! Ye wouldn't mind if I... borrowed some, would ye?" |
| | "Health inspectors!? Y-yer arrivin' a bit sooner than I expected, heh heh." |
| | "Wanna know what we do with a drunken sailor? Arkarkarkarkarkark!" |
| | "The only snappin' that'll be happening is from these big meaty claws!" |
| | "Ye'd better put that money where yer mouth is! Or ye can just give it to me!" |
| | "I've been hearin' you got a habit of dinin' and dashing. Well, ye ain't gettin' yer hands on me Krabby Patties without payin'!" |
| | "So, another bottomfeeder trying to sneak off with me formuler?" |
| | "With yer taste in music, matey, I think I'll be passin' on requests." |
| | "I better not let SpongeBob catch me with ya, lad, I don't want to be thrown into a fry basket again!" |
| | "I'll never forgive ye for stealin' the spotlight from Squidward's band!" |
| | "Get yer Cartoon Network propaganda outta here, Bravo! No free advertisin'!" |
| | "Are you one of them newfangled pop stars that me Pearl's always listenin' to?" |
| | "Yer gonna get MOAR than a simple bruisin', bucko!" |
| | "EVERYONE, RUN FOR YER LIVES! ROBOTS HAVE TAKEN OVER THE TOURNAMENT!" |
| | "Crawl back into yer hole, bony boy. Go on, play dead." |
| | "So I hear ye know a lot about music? I think you should let Squidward take some notes from ya, lad." |
| | "Oh, barnacles. I hate the pill..." |
| | "Oh no, it be the monster that ate Wormy!" |
| | "Ooh, a gift! Surely this thing-a-ma-bobber is worth somethin'." |
| | "Do you two know the one that goes "don dondon don don dondon ka-don"?" |
| | "I can't believe that no-good Plankton is sendin' his wife to do his dirty work. Well, ya ain't gettin' me formuler!" |
| | "Nice try, Patrick. But ya ain't scarin' me again with that stinkin' gorilla suit o' yers!" |
| | "What in the name of Davy Jones' locker is that thing!?" |
| | "Argh, and I take it you're part o' Squidward's interpretive dance routine? Curtain opens in 5, so don't be late!" |
| | "You want an M&M?" |
| | "AAAAAHHHH!!! A lawyer!!!" |
| Against | Mr. Krabs' quote |
| --- | --- |
| | "Even with a fancy robot body like that, "Armor Abs" Krabs is the toughest around!" |
| | "You'll make a great addition as the main attraction to the reopening of Krabby Land! Arkarkarkarkark!" |
| | "Sorry, girls! We don't do celebrity discounts. Arkarkarkarkarkark!" |
| | "I don't care if you Eat It, just so long as ya foot the bill!" |
| | "Wow, Patrick! That "Alien-Out" spray of yers really did the trick, lad!" |
| | "Well, ye put up a good fight, but I finally got yer "console" thing. Spongebob me boy! Make me some-of-those "Videa Games" on this thinger here!" |
| | "All of ye will be shiverin' when you hear what I did with the last phony health inspector that's crossed me!" |
| | "...And tell that pesky shrine maiden o' yers I ain't givin' a cent to her "charity"!" |
| | "I'll never let ye take away half of me money-I mean, valued customers!" |
| | "I like yer style, fellas, but there ain't no penny pincher across the seven seas like ol' man Krabs!" |
| | "Not even Plankton would want to steal from a phony king like you!" |
| | "Yer skull must be dummy thick if ya think you had a chance of snatching the Krabby Patty secret formuler." |
| | "Tell ya what, fer bein' such a good sport, I'll let you perform at the Krusty Krab at a 1% discount!" |
| | "I have to admit lad, the sound of sweet silence only strengthens the sound of sweet cash!" |
| | "You'll definitely be findin' it hard to breath in such deep water." |
| | "I guess I really AM stronger than you, eh?" |
| | "I was hearin' something about "Plastic Bucks"...Well, they're worth nothing at the Krusty Krab!" |
| | "Whatever POOP you were yammerin' on about is not any POOP I'm familiar with." |
| | "Say, these helmets look pretty pricey! Perhaps I can get a quick buck out of 'em!" |
| | "Give Smitty me regards! Arkarkarkarkark!" |
| | "I'd rather be keelhauled through giant clams and cheese graters than have to listen to yer educational television any longer!" |
| | "At least I didn't get the same treatment Patrick got..." |
| | "That'll teach ya a lesson about tryin ta' steal me secret formu-I mean heart!" |
| | "Spongeboy me Bob, we're puttin' donuts on the assortment today." |
| | "I was wondering if you could play that song again?" |
| | "Serves ye right, ya big fancy calculator! .........Say, did Plankton mess with yer language settings?" |
| | "I still don't understand what a gorilla was doin' in this tournament in the first place..." |
| | "That's right, crawl back to whatever deep sea cavern ya came from." |
| | "Is this how it feels to acquire a taste fer "Free Form jazz"?" |
| | "Seriously, you should have an M&M! They're really good!" |
| | "Good thing I'm wearin' me anti-sea bear undergarments." |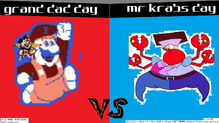 Before his inclusion in King for Another Day, there was an early concept of the vs. screen for King for a Day included in its bonus art folder, which contained Grand Dad and a strange fusion between Mr. Krabs and Garnet that would be later used in the Stronger Than You - Steven Universe rip which foreshadowed his reveal trailer paired with the rip.
His King for Another Day illustration references a minor running gag in the SpongeBob SquarePants series where he rubs himself with money like a towel. The animation is also used in the "OH YEAH MR KRABS" PonPonPon remix video.
A lot of his vs. and victory quotes reference various moments from SpongeBob SquarePants episodes.
His vs. quote against "Weird Al" Yankovic references his song "Fat".
His victory quote against "Weird Al" Yankovic references his song "Eat It".
His vs. quote against Pitbull and the Aliens make a connection with King Neptune, whom all four have in relation on the topic of being bald.
His vs. quote against Nintendo Power includes a reference to the Newgrounds animation "Decline of Video Gaming 2" where the line "It even prints money!" can be found, an exaggeration on the immense successes of Nintendo consoles such as the Nintendo DS and the Wii.
His vs. quote against ZUN references a verse from the popular sea shanty "Drunken Sailor".
His victory quote against ZUN references Reimu Hakurei, the main protagonist of the Touhou Project series, who sometimes tries and fails with various schemes to get shrine donations.
His vs. quote against Adam Levine makes a reference to the infamous Pepsi Super Bowl LIII Halftime Show, in which "Sweet Victory" from "Band Geeks" made a brief appearance, but not after Maroon 5 and Travis Scott's "Sicko Mode" ended up outshining them.
His victory quote against Adam Levine references the Maroon 5 song "Harder to Breathe".
His vs. quote against Johnny Bravo references the Cartoon Cartoon Fridays promo for Nickelodeon, where Cartoon Network characters advertised the block on the Nickelodeon channel "without permission".
His victory quote against Johnny Bravo references his art of a fusion between Mr. Krabs and Garnet used in the Stronger Than You - Steven Universe rip.
His vs. quote against Mariya Takeuchi references Pearl's love for pop star boy bands such as Boys Who Cry.
His victory quote against Jack Bros. is a reference to the Phantom Thieves of Hearts from Persona 5.
His quotes against Nico Nico includes Mr. Krabs mistaking her as Karen Plankton, as both are female and have boxy television-like appearances.
His quotes against Eminem are references to the Talkin' Toons skit where Clancy Brown (as Mr. Krabs) asks Rob Paulsen (as Carl Wheezer from the Jimmy Neutron series) if he wants an M&M. The connection to this with Eminem is the common M&M and Eminem homophone mixup.
Community content is available under
CC-BY-SA
unless otherwise noted.