Papyrus is a character from Undertale, and a competitor in the King for Another Day Tournament. He was selected as a popular fan submission.
Nyeh heh heh! Everyone's favorite soon-to-be member of the Royal Guard has put his human-hunting quest aside to join the competition! Equipped with his staple "battle body", Papyrus will surely cook up a pasta dish that will trounce even the most fearsome opponents.
—Papyrus' description on the MOJO!!
Papyrus was revealed at the beginning of the "SiIva Direct • SiIva Lighthouse Live ∣ E3 2019". His brother, Sans, was originally invited, but he was too lazy to go, so Papyrus went instead. Papyrus' source list includes Undertale rips related to him, rips related to puzzle games, rips related to skeletons, and rips related to pasta.
Papyrus first faced Law & Disorder, but was knocked straight to the Loser's Bracket. He managed to beat Quote and King Dedede, but in Round 3 of Loser's, lost to Johnny Bravo.
Lines without a link come from the "All Vs/Victory Lines" video.
Against
Papyrus's quote
"OH MY GOODNESS! METTATON! WHAT DID ALPHYS DO TO YOU?! YOU'RE SO HUGE!"
"WOWIE!! YOU'RE LIKE A GIANT ACTION FIGURE!"
"WOWIE!! A GIRL WITH SPAGHETTI HAIR?! IT'S LIKE A MATCH MADE IN HEAVEN!"
"SO, YOU'RE FRIENDS WITH A GHOST? ISN'T THAT KIND OF SPOOKY? WOULDN'T YOU PREFER SOMETHING MORE WARM AND CUDDLY? . . . LIKE ME!"
"WOWIE! EVEN HUMANS CAN BE DOGS?"
"SANS!!! WHERE'S THE SWITCH!?"
"HALT, HUMANS! THE GREAT PAPYRUS WILL NOT TOLERATE PUBLIC NUDITY!"
"SAAANS!!!! I THINK SOMEONE TOOK YOUR TROMBONE!"
"THE WAY YOUR HAND IS ALWAYS COVERED IN DUSTY POWDER. . . IT FEELS LIKE YOUR LIFE IS GOING DOWN A DANGEROUS PATH."
"WORRY NOT, LONELY HUMANS! I, THE GREAT PAPYRUS, THINK YOU'RE NICE, AND MAYBE WE COULD BE FRIENDS!"
"

JEEZ! AT LEAST KING ASGORE ISN'T AS MEAN OR BOSSY AS YOU ARE!

"
"DON'T HIDE! I, THE GREAT PAPYRUS, JUST WANT TO BE YOUR FRIEND!"
"OH, YOU'RE A DJ!! I KNOW A GHOST WHO MIGHT LIKE YOU!! WHAT WAS HIS NAME. . . SPOOKY BLOO BLOO?"
"

NYEH HEH HEH!!

"
"OF COURSE I CAN ADD SUGAR TO MY SPAGHETTI! WANT TO HAVE A BITE?"
"

IF YOU WANT DATING ADVICE, I SNATCHED A OFFICIAL DATING RULEBOOK FROM THE LIBRARBY!

"
"THE STRONG SMELL OF GREASE. . . REMINDS ME OF GRILLBY'S. YEUGH!
"WOWIE! AFTER THIS FIGHT I SIMPLY MUST INTRODUCE YOU TO MY FRIEND ALPHYS!"
"YOU HAVE TROUBLE CAPTURING A HEDGEHOG USING ROBOTS? I CAPTURE USING PUZZLES! MAYBE WE CAN TEAM UP!"
"UNDYNE TAKES HER HELMET OFF OFTEN, WHY DON'T YOU GUYS DO THE SAME? DON'T BE SHY!"
"HEY, AREN'T YOU THAT 'DRAGON WARRIOR'? I'M A BIT OF A WARRIOR MYSELF, YOU KNOW!"
"GOLLY, I'D LOVE TO SET AN EXAMPLE FOR PEOPLE!! I AM THE AMBASSADOR, AFTER ALL!
"HEY! WOULD YOU HAPPEN TO BE FROM SNOWDIN? I HAVE SEEN MANY SNOWMEN THERE!"
"WOWIE! A SPAGHETTI MACHINE, JUST WHAT I NEEDED!"
"RHYTHM GAMES ARE TOO DIFFICULT! I CAN NEVER TAP THE BUTTON FAST ENOUGH!"
"かウをのオ
  ? すエキレ
     るンヨさ
     のソクま"
"COULD I BORROW SOME OF YOUR HAIR, HUMAN? YOU SEEM TO HAVE A SURPLUS OF IT."
"IS THIS ONE OF THOSE 'DIRTY HACKERS' SANS WAS TALKING ABOUT?"
"YOU GUYS SHOULD PLAY WITH UNDYNE SOMETIME!"
"OH NOTHING, I'VE JUST HEARD YOUR MOTHER MAKES A MEAN SPAGHETTI!"
"

DON'T BE EMBARRASSED BY YOUR TEDDY BEAR MY FRIEND! I, THE GREAT PAPYRUS, STILL HAVE TONS OF TOYS THAT I PLAY WITH!

"
Against
Papyrus's quote
"NO OFFENSE METTATON, BUT EVEN YOUR EX FORM WAS A LOT STRONGER!"
"I GUESS NOT ALL ACTION FIGURES ARE GOOD FOR PLANNING THEORETICAL BATTLE SCENARIOS!"
"A BITTER DEFEAT DESERVES A TASTY TREAT! YOU THREE WOULD PROVE USEFUL FOR MY DELICIOUS SQUID INK SPAGHETTI!"
"IF YOUR SPOOKY FRIEND NEEDS MORE FRIENDS, I KNOW A CERTAIN GHOST WHO CAN HELP!"
"WHO KNEW WHEN WORKING TOGETHER, HUMANS AND MONSTERS COULD PUT UP SUCH A GOOD FIGHT?"
"YOU KNOW, SANS WOULD'VE LOVED THOSE DONUTS! . . .BUT ALAS, HE WILL CONTINUE TO EAT MY ONE AND ONLY DISH!"
"DO NOT WORRY! I, THE GREAT PAPYRUS, WILL HELP YOU FIND SOME CLOTHES!"
"WOWIE!! THAT WAS SOME IMPRESSIVE MAGIC, HUMAN! MAYBE YOU CAN HELP ME IMPROVE MY SPECIAL ATTACK!"
"ANYONE CAN BE A GREAT PERSON IF THEY TRY! AND ME, I BARELY HAVE TO TRY AT ALL!!"
"I'VE HEARD OF THE GREAT COUNT CANNOLI. DOES MY VICTORY MEAN I'M YOUR NEXT BIG ITALIAN CUISINE THEMED FOE?"

"I HEAR YOU KNOW SOMETHING ABOUT OATMEAL! YOU KNOW, MY FAVORITE FOOD IS THE OATMEAL WITH THE DINOSAUR EGGS!"

"YOU LIKE A GAME ABOUT KILLING MONSTERS? OH DEAR. I HOPE THAT DOESNT AFFECT OUR BUDDING FRIENDSHIP!!"
"OH I KNOW! IT WAS NAPPER HOG!! NO . . . THAT'S NOT RIGHT EITHER."

"NOT BAD, ROBOT FRIEND!!! YOU MAY HAVE FALLEN DOWN, BUT YOU CAN USE THE JETPACK YOU'VE EQUIPPED!!"

"WHAT? YOU'RE 'LEVINE' SO SOON? NYEH HEH HEH!!"
"STEP THREE: WEAR NICE CLOTHING. . . . WAIT! YOU'RE WEARING CLOTHING RIGHT NOW!!!"
"JUST BECAUSE YOU LOST, IT'S NO REASON TO GET. . . CRABBY!! NYEH HEH HEH!"
"WOW! I DIDN'T UNDERSTAND A THING YOU SAID!! HOPEFULLY FRISK CAN BREAK THE LANGUAGE BARRIER TOO!"
"AND IF YOU EVER WANT YTMPVS TO BE POPULAR AGAIN, CALL THE GREAT PAPYRUS!
"DO NOT FRET, HUMANS! DEFEATING ME WAS A NEAR IMPOSSIBILITY. BUT PERHAPS NEXT TIME YOU WILL. . . GET LUCKY! NYEH! HEH HEH!"
"YOU WERE A TRULY MAGNIFICENT HUMAN AND MONSTER TEAM!! EVEN THOUGH YOU LOST, I AM PROUD!"
"DID I DO IT? DID I SET A GOOD EXAMPLE??"
"EVEN THOUGH IT'S NOT AS GOOD AS MINE, YOUR CATCHPHRASE IS WONDERFUL TOO!! HEE-HO!!!
"THIS MACHINE MUST BE BROKEN! HOW CAN YOU NOT BAKE SPAGHETTI?! I SUPPOSE I'LL HAVE TO COOK BY THE BOOK NEXT TIME. . ."
"I PREFER PUZZLE GAMES ANYWAY!! NYEH!!"
"クさとミもど
  !  まくツすれ
  !  のにクごも
     キオスいこ
     ヨレだリれ"
              !
"SORRY, BUT YOU'RE NOBODY'S HERO!! THAT WOULD BE ME!! THE GREAT PAPYRUS!!"
"YEAH, GET OUT OF HERE!"
"WAIT, YOU GUYS EAT FISH? STAY AWAY FROM MY FRIEND!"
"THAT WAS FINE SPAGHETTI! JUST PLEASE WATCH YOUR LANGUAGE! THERE COULD BE CHILDREN HERE!"
"COME BY MY HOUSE AND MAYBE WE CAN HAVE A NICE FUN TEDDY BEAR PARTY! MAYBE SANS CAN JOIN TOO!"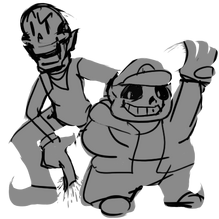 Before Papyrus' inclusion in King for Another Day, there was an art of Wario Bros. included in its bonus package which was a bait-and-switch of there faces being replaced with Sans' and Papyrus', possibly hinting his appearance in the next tournament before being properly revealed as a contestant.
For the livestream revealing the results of Winners' Round 2 and Losers' Round 1, Papyrus' line for winning against Quote is different from the upload of L R1 M4's results alone.

Livestream line: "

NOW UNDYNE CAN'T REFUSE ME FROM THE ROYAL GUARD AFTER FENDING OFF THOSE TINY BOSS MONSTERS!

"
Updated line: "

NOT BAD, ROBOT FRIEND!!! YOU MAY HAVE FALLEN DOWN, BUT YOU CAN USE THE JETPACK YOU'VE EQUIPPED!!

"

He and The Jazz Cats are the only ones to use unique fonts in their quotes.

In Papyrus' case, he uses the font he is named after.

The color pallet for the background as well as the bones references the "blue bone" attack Papyrus uses in Undertale.
His quotes against Metal Ajit Pai included Papyrus mistaking him as Mettaton. The victory quote indirectly references his EX form.
His quotes against Geno references the action figures he collected. His victory quote references his dialogue in his room at his and Sans' house during the Pacifist Route.
His vs. quote against "Weird Al" Yankovic references the ghost character Napstablook.
His vs. quote against Nintendo Power references the reveal trailer of the Switch port of Undertale.
His victory quote against Nintendo Power references the first part of the various Yo-Kai Watch sketches.
His victory quote against ZUN references his "Special Attack" that wasn't use due to the Annoying Dog stealing his special "bone".
His quotes against Thanos is a reference to his dialogue in his Genocide Route encounter.
His vs. quote against Wario Partners, LLP is a reference to "Ashley's Theme" from WarioWare: Touched!.
His victory quote against Wario Partners, LLP references the character Count Cannoli, the main antagonist of Wario: Master of Disguise.
His vs. quote against King Dedede references the Undertale character King Asgore.
His victory quote against King Dedede is a reference to the "1, 2 Oatmeal" meme and a post from the Undertale Q&A Tumblr account where Flowey said that Papyrus' favorite food is oatmeal with the dinosaur eggs.
His quotes against DJ Professor K reference how he couldn't get Napstablook's name right.
His victory quote against Quote references the barrier on Mount Ebott into the Underground, which the Eight Humans fall into, and indirectly references the Boosters v0.8 and v2.0 which are jetpacks from the game Cave Story.
His vs. quote against Adam Levine references the Maroon 5 song "Sugar".
His victory quotes against Adam Levine and Mr. Krabs could reference the puns that his brother Sans made or at least one that Papyrus said in Undertale. In this case, the quotes makes use of their names to mix with the puns.
His quotes against Johnny Bravo is taken from his dialogue in his dating segment in Undertale.
His vs. quote against Mr. Krabs references the pub Grillby's.
His victory quote against Mariya Takeuchi alludes to pacifist ending in Undertale, where Frisk breaks the barrier trapping the monsters and free them all.
His vs. quote against Dr. Robotnik as well as his victory quote against Rhythm Masters references his interest in puzzles.
His victory quote against Daft Punk ft. Pharrell references the song "Get Lucky".
His vs. quote against Jack and Elmo references the "Dragon Warrior", the title given to Po, the main character of Kung Fu Panda which is played by Jack Black.
His vs. quote against Dr. Piccolo references the Pacifist ending of Undertale, where he is named the ambassador of monsters.
His vs. quote against Jack Bros. references the town Snowdin, a location in Undertale.
His victory quote against HOBaRT references the LazyTown song "Cooking by the Book".
The way his quotes are formatted against Nico Nico is a reference to his text in the Japanese version of Undertale, which resembles an old Japanese writing style.
His victory quote against Donkey Kong references the Donkey Kong Country cartoon song "I'm Nobody's Hero".
His quotes against MissingNo. are a reference to the Neutral Route's "Impossible Ending" in Undertale, in which Sans calls the player a "dirty hacker" at the end of his phone call.
His quotes against Eminem references his song "Lose Yourself".
Community content is available under
CC-BY-SA
unless otherwise noted.