Porter Weston Robinson (born July 15, 1992), is an American DJ, musician, record producer and singer. Two of his songs became minor memes on the SiIvaGunner channel.
Rips
See also: Category: Rips featuring Porter Robinson and Category: FIFA 17
Despise having the majority of his songs being featured on several rips, only two of them are minor memes on the channel.
"Goodbye To A World"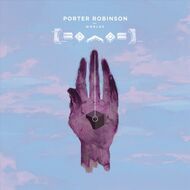 "Goodbye To A World" is the twelfth and final song on Robinson's debut album, Worlds, which was released on August 12, 2014. Robinson has said regarding the song's meaning:
"[...] I was very much attached to these online worlds, and MMORPGs [...] and the thing about these games is that when an online roleplaying game that millions of people are connected to goes away, when the game ceases to be profitable and the servers shut down, it's not like other games where ten years down the line you can just plug in the cartridge and bask in the nostalgia. It's not like that. Once those games are gone, those worlds that you've very much immersed yourself in are gone, and that was a big deal to me when my favorite games disappeared and I couldn't go there anymore, and as an adult now, I think it's just a very kind of romantic notion. That's why I think the whole idea of, like, a beautiful apocalypse is really evocative to me, I love that. [...] This is a beautiful world kind of disappearing in a clean way."[1]
The song first appeared on the channel in "Good Night - Undertale". After this rip was uploaded, the channel took a week-long break, which lead fans to think that the channel had ended. This gave the song significance within the SiIvaGunner community, and since then it has occasionally been featured in emotionally-driven rips, such as "Stickerbush Symphony (OST Version) - Donkey Kong Country 2" in the case of the channel's 1-year anniversary, or "Circus (Solo Version) - Five Nights at Freddy's" in the case of being single on Valentine's Day.
"Shelter"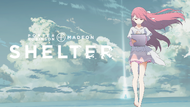 "Shelter" is a single made in collaboration with Madeon that was released on August 11, 2016. The song received an animated short film made by A-1 Pictures and Crunchyroll in October 18, 2016. The official synopsis of the short film is as follows:
"Shelter tells the story of Rin, a 17-year-old girl who lives her life inside of a futuristic simulation completely by herself in infinite, beautiful loneliness. Each day, Rin awakens in virtual reality and uses a tablet which controls the simulation to create a new, different, beautiful world for herself. Until one day, everything changes, and Rin comes to learn the true origins behind her life inside a simulation."
"Shelter" first appeared on the channel in "Metallic Madness Zone Act 1 - Sonic Mania", though it appeared more frequently as a meme following "Shelter - FIFA 17".
Trivia
References
External links