SiIvaGunner, formerly GiIvaSunner, is a central character in SiIvaGunner lore. He ran his self-named channel during Season 1.
Characteristics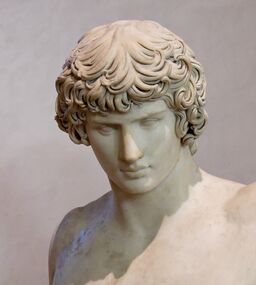 SiIvaGunner's appearance is based on GilvaSunner's avatar, a datamoshed edit of an image of a bust of Antinous.[notes 1] In videos where he is given a speaking role, he is voiced by the text-to-speech voice "Wiseguy" from Voice Forge.
Following the GiIvaSunner Termination, an eyepatch and horn similar to those of Venom Snake from Metal Gear Solid V: The Phantom Pain were added to the avatar. Starting with GilvaSunner's Highest Quality Video Game Rips: Volume 3 & Knigra's cover art, his crotch is usually covered by the Fred Flintstone star from the 7 GRAND DAD title screen whenever his full body is shown. Following the SiIvaGunner Termination, the character's appearance became more damaged, with his horn exaggerated and scars added on his left eye, nose, and lower lip.
As channel host
Most of SiIvaGunner's character is defined by the kayfabe from the channel impersonating GilvaSunner. On the GiIvaSunner channel and in the early days of the SiIvaGunner channel, he would occasionally reply to comments, usually repeating the phrase "I only upload high quality video game rips." to people who pointed out that the videos didn't actually contain unedited video game music (or if they insinuated that a rip wasn't 'high quality' for a different reason, such as it containing a disliked meme).
At the end of channel events, he would comment "Regular uploads will resume in [amount of time]." This was sometimes parodied as well, with the amount of time being the usual one hour. When he released an album, he would usually complain in the descriptions of announcements that the titles and artist names of his rips don't match those of the tracks. This was eventually explained to be caused by Wood Man.
The catchphrase on most rips he uploaded was "Please read the channel description.", with some variations during certain channel events.
Lore history
On October 1, 2017, the origins of SiIvaGunner were explained in the first Haltmann's Archives file, "The Creation of GiIvaSunner [FILE-01]". The video reveals that GiIvaSunner was carved from a meteor that crash-landed outside of Tokyo Station in Marunouchi, Japan, after the meteor was bought by an unknown man for ¥562,315,000 (approximately US$5,000,000 in 2017). GiIva then came to life, killed his creator, and hijacked his computer to create the GiIvaSunner channel.
GiIvaSunner Termination
Following from the first file, "Termination [FILE-02]" details GiIvaSunner's transformation into SiIvaGunner.
After uploading rips for almost three months, the GiIvaSunner channel received a copyright strike on April 5, 2016. In order to find the perpetrator of this act, GiIva apprehended seven suspects aboard a plane for interrogation, as seen in "A Big Announcement". One of the suspects was the high-ranking crime lord Dinkleberg, who revealed himself to be Angry Joe and the one who filed the strike out of jealousy. Joe then assaulted GiIva and filed another strike, terminating the channel and causing GiIva to become lifeless and fall out of the plane.
On April 12, the now-lifeless GiIva was fished out of a harbor in the Netherlands and sold in an auction to Chad Warden for $599, who then created the SiIvaGunner channel and allied with GiIvaSunner, now known as SiIvaGunner, buying him a house, a new computer, and an eyepatch, thus letting him continue making rips.
SilvaGunner: Rebooted
On June 17, 2016, the SiIvaGunner channel rebooted due to a constant dislike-bombing of rips featuring "Snow halation", starting the SilvaGunner: Rebooted story arc. SiIvaGunner made appearances in the arc's lore videos, but mostly played a passive role as he was unaware of his own rebooted status. His catchphrase was changed to "Read the channel description, please." and he would rarely comment with "I upload high quality video game rips only."
Immediately after the video "A Grand New Era ~Ending~ - SilvaGunner: Rebooted" was uploaded, in which the pre-reboot and reboot universes were merged, the channel's avatar was changed to an uncorrupted and undamaged version of SiIvaGunner, showing the original Antinous bust. This change was reverted after the release of "Melody of the Heart ~True Ending~".
End of Season 1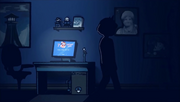 On September 26, 2016, SiIvaGunner started releasing albums at an alarming rate due to becoming exhausted from constantly uploading rips for nearly seven months. He then uploaded the final rip of Season 1, "Title Theme & Ending - 7 GRAND DAD", on October 29. At the end of said rip, he declares it to be his "highest quality video game rip" and decides to take a long rest, leaving his computer and going to bed.
This was a set-up for The SilvaGunner Spooktacular Halloween Horror Special, in which SiIvaGunner was still the "host" of the channel, but all of the rips were actually uploaded by Wood Man. During this event, the catchphrase was replaced with varying amounts of the letter Z to show that SiIvaGunner was asleep.
SiIvaGunner has not had any role in the lore since this event and remains asleep to this day, although he is frequently a subject of discussion from other characters and in Haltmann's Archives.
The SiIva A.I.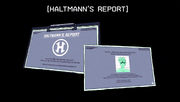 The SiIva A.I. is an A.I. on SiIvaGunner's computer created from a sample of him by Haltmann Works Company. It has been the main host of the channel since Season 3 and acts nearly identical to the real SiIva (with a few exceptions during certain channel events).
The existence of this A.I. was first hinted at through the various glitches that occurred during the start of Season 3 up until the release of "Project AIRTH [FILE-09]", which ended the glitches but further hinted that whatever was running the channel was not the original SiIva. It was later explicitly revealed and named as The SiIva A.I. in "The Life and Times of Wade L.D. - A SiIvaGunner Christmas Comeback Crisis Side Story".
Even with the channel being primarily controled by the A.I., it has still been subject to numerous takeovers. This was explained in "Channel Hosts and Takeovers [FILE-15]", which states that the apparent takeovers were actually caused by the A.I. malfunctioning and taking the form of other entities. The video also reveals that the A.I. was responsible for running the King for a Day tournaments to decide additional channel hosts.
Gallery
Avatars
Videos
Albums
Others
Trivia
Given that SiIvaGunner is based on Antinous, a symbol of male homosexuality in Western culture, he is likely gay himself (or bisexual, if "Love Theme - Mass Effect" is to be considered "canonical").
Notes
↑ The original unedited picture is "Antinous Ecouen Louvre Ma1082 n4", uploaded to Wikipedia by user Jastrow on November 27, 2006, and the pictured bust is an 18th century replica of the Antinous of Ecouen from Hadrian's Villa at Tivoli in Lazio, Italy, now housed in the Louvre Museum in Paris, France. The source of the datamoshed edit is currently unknown, the oldest known copy being from a now-deleted Tumblr post on July 27, 2014.
External links