SiIvaVision was a channel event on the SiIvaGunner channel celebrating the final of the Eurovision Song Contest 2022 on May 14, 2022.
Summary
All rips uploaded on this day feature songs that were featured during prior and current Eurovision Song Contests, ranging from the 1970s to the 2020s, as well as songs by artists closely related to the contest such as ABBA. Several of these rips use the mix name "EU Version".
Rips were originally uploaded every hour, then changed to 30 minutes near the end of the day.
During the event, the banner was changed to have an image of the upper body of Florin Cezar Ouatu, Romania's entry to the Eurovision Song Contest 2013, superimposed over the top half of the lighthouse.
Timeline
See also: Category:SiIvaVision
Trivia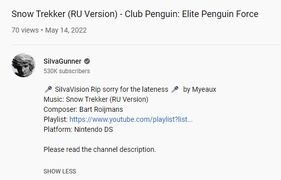 The event's name was leaked with the release of the rip "Snow Trekker (RU Version) - Club Penguin: Elite Penguin Force", which originally had a line mentioning the name mistakenly included in the description.
Despite appearing in the banner, no rips uploaded during the event featured content related to Florin Cezar Ouatu.
Events
See also: List of channel events • Breaks • Events by season
---
---
---
---
---
---
---
2 Day 2 (Feb 2, 2022)
GilvaSunner Deletion (Feb 4, 2022)
Kanan Matsuura's Birthday (Feb 10, 2022)
Valentine's Day 2022 (Feb 14, 2022)
Damn Daniel 6th Anniversary (Feb 15, 2022)
R.L.99 Memorial Day (Feb 21, 2022)
Hamood Habibi 15th Anniversary (Mar 4, 2022)
Kirby and the Forgotten Land Release Day (Mar 25, 2022)
April Fools' Day 2022 (Apr 1, 2022)
Mori Calliope's Birthday (Apr 4, 2022)
You Watanabe's Birthday (Apr 17, 2022)
Maki Nishikino's Birthday 2022 (Apr 19, 2022)
Family Guy Event (Apr 20, 2022)
Newgrounds Day (Apr 30 – May 4, 2022)
SiIvaVision (May 14, 2022)
Ninomae Ina'nis' Birthday (May 20, 2022)
The Harlem Shakeover (May 22, 2022 – June 1, 2022)
Mari Ohara's Birthday (Jun 13, 2022)
Wood Man's Debut 6th Anniversary (Jun 21, 2022)
Triforce% SGDQ Run (Jul 1, 2022)
Hampsterdance 22nd Anniversary (Jul 4, 2022)